Celebrating the life of Susan Daniels
LSUHSC lost a piece of history earlier this year with the passing of Susan Daniels, the amazing woman who founded the Department of Rehabilitation Counseling in 1978.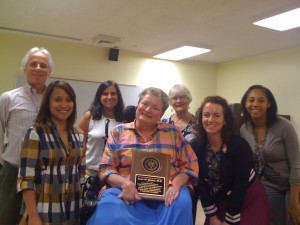 Susan M. Daniels, Ph.D. died October 20 in Washington, DC. She was born in New Orleans, Louisiana, October 24, 1948, the daughter of the late Marie Ducote Daniels and Harry James Daniels, Sr.
Dr. Daniels was a graduate of St. MaryÔÇÖs Dominican High School, New Orleans (alumna of the year 2001), and Marquette University (summa cum laude). She received her Master's Degree in Psychology from Mississippi State University (alumna of the year 1995), and her Doctorate in Psychology from the University of North Carolina at Chapel Hill.
She contracted polio as an infant and spent much of her early childhood in rehabilitation hospitals, including the Georgia Warm Springs Foundation. At her parents' insistence, Dr. Daniels attended school with her siblings long before mainstreaming was commonplace.

A well-known and highly regarded international disability rights leader, and speaker, Dr. Daniels began her career as the youngest chair in the School of Allied Health Professions at the LSU Medical Center in New Orleans, by organizing the Department of Rehabilitation Counseling. During the same period, she wrote extensively, lectured internationally on disability issues, and co-authored Who Cares: A Handbook on Sexuality and People with Disabilities, the first book ever published in the United States on disability and sexuality.
Dr. Daniels went on to serve in three senior Federal positions: Associate Commissioner of the Rehabilitation Services Administration in the Department of Education, Associate Commissioner of the Administration on Developmental Disabilities in the Department of Health and Human Services, and Deputy Commissioner for Disability and Income Security Programs at the Social Security Administration.
Following her career in public service, she founded Daniels & Associates, an international consulting firm, and led projects focused on public policy development, disability and employment, and organizational development. She advised the government of India on developing a social insurance program for people with disabilities and consulted with the New Zealand government on rehabilitation and social insurance. She organized and spoke at international forums in Africa, Europe, and Asia.
In 2004, Dr. Daniels received the prestigious Henry B. Betts award of the Prince Charitable Trusts and the Rehabilitation Institute of Chicago, for her lifelong leadership in the field of disability rights.
She was predeceased by her brother Edgar Ducote Daniels of Baton Rouge, LA. She is survived by her husband, John W. Watson of Washington, DC, her sister Mary Daniels Cantwell and husband Robert C. Cantwell of Wilmington, NC, her brother Harry James Daniels, Jr. of New Orleans, LA, her sister-in-law Jacquelyn Steele Daniels of Baton Rouge, LA, and many nieces, nephews, and cousins.
Family and friends gathered to remember her in New Orleans, LA on November 5, 2011, while Dr. Henry McCarthy held a small memorial celebration on-campus on Wednesday November 23. A tribute is also planned for December 4, 2011 in Washington, DC.
More info, videos and remembrances at: http://honoringsusanmdaniels.com/