Link Resolver Tips: RefWorks
The WebBridge Link Resolver makes it easy to export citation information to your RefWorks account along with pointing you in the direction of the article you need. Whenever you click on the "Check Full Text" icon in PubMed, ProQuest Nursing and Allied Health Source, Scopus, Web of Science, or any of the EBSCOhost databases (CINAHL, Academic Search Complete, etc.), the new window/tab that opens showing any available sources for that article will always have a link to help you export the citation information to RefWorks: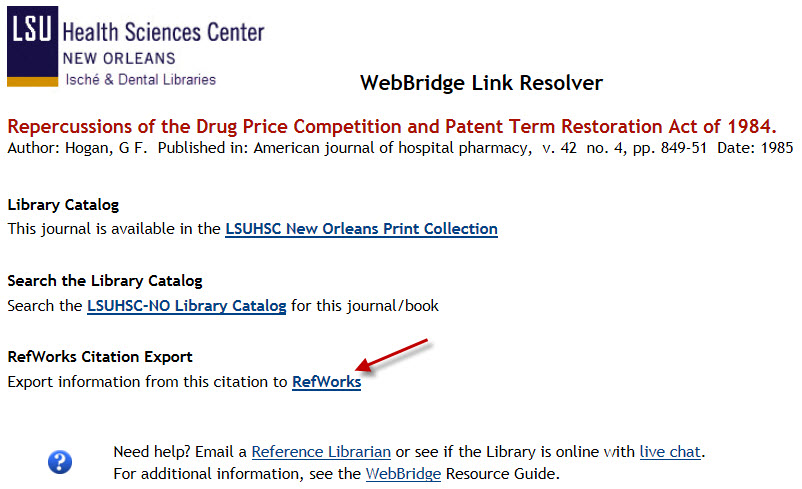 When you click on the link you'll be asked to provide your RefWorks Login Name and Password. Once you've logged in, you will see a screen confirming the citation was imported successfully.
The link resolver/RefWorks connection is not a one-way street, though. When you're working with your RefWorks bibliographies, you will see the "Check Full Text" icon with all citations:

Clicking this icon gives you the same ability to check for any available sources for that citation as it does in other databases. However, this process relies upon the completeness and accuracy of the citation in your bibliography and sometimes incomplete citations cause an available source to not display. If this happens, remember you can always check the Library's catalog or the Electronic Journals List. As a safeguard, interlibrary loan will not display as an option when using the link resolver from RefWorks, but you can always request a resource the Library does not own by using the ILLiad Interlibrary Loan service.
Do you need more information about RefWorks or would like to sign up for an account? This page can help and it also has a link to upcoming RefWorks classes. You can also find tips and information about the link resolver on the WebBridge Link Resolver LibGuides page.