This Month in History: Dr. Hamlett & Zoological Treasure Hunting
Ever wondered how to catch a lizard? You might think to consult wikiHow or you might look up an instructional video on YouTube. Consulting our Digital Collection of newspaper clippings, however, would reveal quite an interesting portrait of a rugged, LSU Indiana Jones in pursuit of a rare treasure: the live-birthing lizard.
In 1953, the Times-Picayune ran an article on one Dr. George W. D. Hamlett, faculty of the LSU Medical School Department of Anatomy, whose research practices involved catching his subjects in the American Southwest rather than in a lab. Nets are all well and good for the casual lizard hunter, but Dr. HamlettÔÇÖs methods included an elaborate system of hammer, chisel, stick noose, and rifle.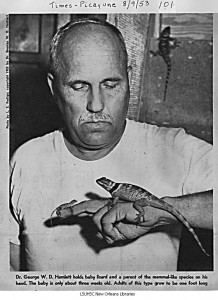 In order to capture the illusive live-birthing female lizard, he donned the traditional gear: khakis, hiking boots, and traded a fedora for a sun hat; armoring himself thus, he chiseled lizards out of rock formations and sought the mammal-like desert lizard among the trees. His interest in these lizards lay in their ability to produce young not through external development in an egg, but within the female of the species, an oddity for the reptile. Though Dr. Hamlett lacked the Indiana Jones bullwhip and the characteristic fear of snakes, his adventures were nevertheless harrowing.
The character of Dr. Jones is perhaps based on Sir Arthur Conan DoyleÔÇÖs character, Professor Challenger (a figure in turn based on his own Professor Sir William Rutherford) who is famous for having combined several areas of study such as archaeology, anthropology, and zoology in the pursuit of a totalizing knowledgeÔÇöÔÇ£Science seeks knowledge. Let knowledge lead us where it will, we still must seek it. To know once for all what we are, why we are, where we are, is that not in itself the greatest of all human aspirations?ÔÇ£(When the World Screamed). In the same way, Dr. HamlettÔÇÖs study of embryology continued on many divergent paths as he explored the complexities of the long-tongued bat, the badger, the armadillo, the cat, the coyote, and the American monkey, finally culminating in his study of humans.?á Some of his published works, ÔÇ£Embryology of the Molossoid Bat,ÔÇØ ÔÇ£Some Notes on Embryological Technique,ÔÇØ and ÔÇ£Human Twinning in the United StatesÔÇØ can be accessed through PubMed.
Though the similarities between Dr. Hamlett and Dr. Jones may not be many, there is an air of adventure to every quest for knowledge. Why can the scientist not leap across cliff faces and come to the rescue every now and then? But please be aware that there are no catacombs beneath this libraryÔÇÖs floorÔÇöyouÔÇÖll have to go to Venice for that.
Glimpse of the Past is an ongoing project to promote the Louisiana Digital Library effort. This Month in History will present for your reading pleasure a closer look into a newspaper clipping of note from our Digital Collections and articles relating to the LSU Medical School.