Get text alerts while Isaac lurks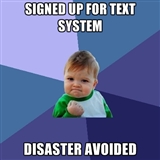 While not projected to hit New Orleans at this time, the potential of a storm in the Gulf is a good time to remind everyone to register for LSUHSC's Emergency Alert System. Once your cell phone number is registered, you will receive alert notifications related to dangerous or threatening situations or conditions in facilities owned by LSUHSC-NO on the downtown and Dental School academic campuses.
In plain language: you will know in advance if you have to go to school when a storm threatens.
The text message system is easy to use. Run through a program called E2Campus, all you have to do is log in with your LSUHSC Network ID and enter your phone number and service provider. You'll quickly receive a 'verification code' via text, which confirms your number in the text alert system. Then you are set for the next emergency.
Questions? Check out this FAQ.
Text and email alerts:?áhttp://www.lsuhsc.edu/alerts/TextEmailAlerts.aspx