Friday Fun: Communication edition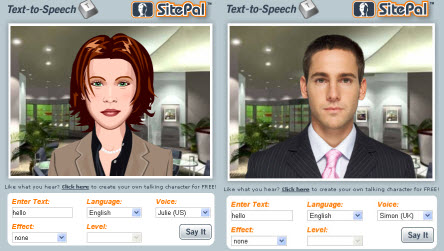 Meet Julie & Simon. Or Misaki and Kyoko. Or Annike and Sven.
These free text-to-speech avatars turn text into speech with options to modulate speed, pitch, dialects, and more. This useful tool for speech therapists is engaging for the non clinicians as well – if only for the fact their eyes follow the mouse around the screen.
Text-to-speech: http://www.oddcast.com/home/demos/tts/tts_example.php?sitepal
Found via the American Speech-Language-Hearing Association – Research Databases and Other Online Tools.