This Month in History: Dr. Rowena Spencer and Her Little Chickens
Despite the resemblance, Dr. Rowena Spencer explains, children are not tiny adults; indeed, ÔÇ£Children are like little chickens. They like to know their way around.ÔÇØ As one of the first women in the country to specialize in pediatric surgery as well as the first woman appointed to the surgical staff at the LSU Medical Center and the first female surgeon in the state of Louisiana, Dr. Spencer proved a wonderful asset to any hospital. Her bedside manner set her apart as a surgeon of unparalleled worth.
Dr. Spencer preferred to take a lighter approach to her smaller patientsÔÇöbeing a friend instead of a threat; as a 1960 Times-Picayune article describes, ÔÇ£She is not above bribing a youthful patient with a nickel or a piece of candy.ÔÇØ And when asked in a recent interview about the most satisfying part of her work, she answered, ÔÇ£Holding the babies. I love babies more that a mule can kick.ÔÇØ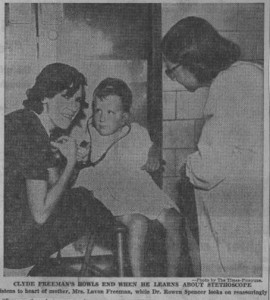 A forerunner for females in the surgical arena, Dr. Spencer faced some adversity, though she did not appear to dwell on this issue. She persevered to become a respected member of the medical community at a point in history rife with tension over not only the presence of women in the medical field but also African-Americans. At Johns Hopkins University, where she earned her M.D. in 1947, Spencer was in good company. She studied under Dr. Alfred Blalock and his laboratory technician, Vivien Thomas. Thomas, an African-American with little formal education, played an integral role in helping save those suffering from ÔÇ£blue baby syndrome.ÔÇØ Another partner in this discovery was Helen Taussig, founder of the field of pediatric cardiology and first female president of the American Heart Association. The work of Blalock, Thomas, and Taussig on the heart is immortalized in a PBS production, ÔÇ£American Experience: Partners of the HeartÔÇØ(2002), and in a Hollywood production, Something the Lord Made (2004). Dr. Spencer would continue their work on infant patients, making a name for herself as an authority on conjoined twins.
Examples of her work include many articles such as: ÔÇ£Parasitic Conjoined Twins: External, Internal, and DetachedÔÇØ and ÔÇ£Congential Heart Defects in Conjoined Twins.ÔÇØ An autographed copy of her text, Conjoined Twins: Developmental Malformations and Clinical Implications, is available for checkout at the Library. Dr. Spencer has also had the honor of being featured in a publication entitled, Louisiana Women: Their Lives and Times. Her chapter, ÔÇ£A Study of Changing Gender Roles in Twentieth-Century Louisiana MedicineÔÇØ by Bambi L. Ray Cochran, appears alongside essays on Marie Therese Coincoin, Oretha Castle Haley, and many others in a fitting tribute to their contributions. Dr. Spencer recently celebrated her 90th birthday.
Glimpse of the Past is an ongoing project to promote the Louisiana Digital Library effort. This Month in History will present for your reading pleasure a closer look into a newspaper clipping of note from our Digital Collections and articles relating to the LSU Medical School.