This Month in History: Don't Just Grin and Bear It
"A woman's first responsibility is to make an effort to do what she wants to do." —sage advice?áfrom?áDr. Winston Weese, Emeritus Associate Professor, Department of Obstetrics and Gynecology at LSU Medical School
You never know what you will chance upon when you browse the LibraryÔÇÖs Newspaper Clippings Collection. Trolling for this monthÔÇÖs topic took me on a journey through various strange perspectives on womenÔÇÖs health.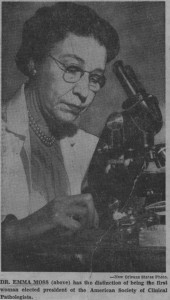 In 1959, convention speakers discussed ÔÇ£gyno-psychiatry,ÔÇØ ÔÇ£a very basic and superficial type of psychiatry [that] is primarily reassurance. Sometimes a woman is infertile because she believes her husband does not love her. Or vice versa. What we are trying to do today is to make the infertile woman realize that help is possible: that they donÔÇÖt have to just grin and bear it.ÔÇØ One article from 1961 blames men for womenÔÇÖs anxieties: ÔÇ£The American man isnÔÇÖt asserting his male dominance.ÔÇØ The piece is full of quotable gems like, ÔÇ£The wise woman of course, vocally credits her husband with leadership even when he does not have itÔÇØ and ÔÇ£boosts her husbandÔÇÖs ego even though she may be far superior to him in intelligence.ÔÇØ
Some answered the call for by entering the medical field.?áIn 1931, The Southern Medical Association fielded questions about the rise of women as doctors. At the time, women doctors still combated some suppositions about their patients: ÔÇ£Why should they be all women?ÔÇØ and about their personhood with ÔÇ£frequent assertions that such professions as social work and medicine destroy many of the gentler attributes of the feminine nature.ÔÇØ One of the doctors interviewed was the remarkable Dr. Moss of New Orleans, who said, ÔÇ£ThatÔÇÖs a lot of foolishness on the part of people who donÔÇÖt know us.ÔÇØ
Dr. Emma Sadler Moss rejected a teaching career because she was ÔÇ£not gentle enoughÔÇØ and stood as is a?áshining example?áof a woman doing what she wants. She brushed aside the hackneyed image of the young, gentle Southern woman, preferring the allure of the medical profession, where she excelled. After a stint as a medical technologist, Dr. Moss studied for her M. D., which she earned in 1935 from LSU. From there, she earned the title of Director of Pathology at Charity Hospital, clinical professor of pathology at LSU Medical School, and President of the American Society of Clinical Pathology (notably, the first woman President of the society).
Dr. MossÔÇÖ commitment to these institutions lasted for over thirty years until her death in 1970. She received numerous awards for her work in pathology including being recognized as the 1954 Medical Woman of the Year and as one of ÔÇ£The Six Most Successful Women of 1955.ÔÇØ The Library owns two editions of her lauded text, An Atlas of Medical Mycology, which she co-authored with Dr. Albert Louis McQuown. A full listing of her contributions to LSU Medical School and Charity Hospital can be viewed in A History of LSU School of Medicine New Orleans.
Glimpse of the Past is an ongoing project to promote the?áLouisiana Digital Library effort. This Month in History will present for your reading pleasure a closer look into a newspaper clipping of note from our Digital Collections and articles relating to the LSU Medical School.