Faculty Publications Spotlight for February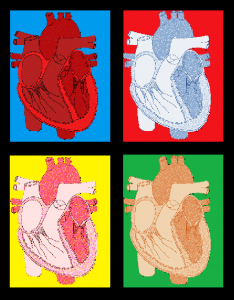 A new selection of articles has been added to the Faculty Publications display in the Ische Library. These eight articles, as well as all of the articles in our Faculty Publications database, are authored by at least one member of our research community here at LSUHSC-New Orleans. Each month the Library is proud to present copies of eight of these publications in a rotating display of 16. They can be viewed in the Reference area, on the wall between the main entrance and the Library elevator, on the third floor of the Resource Center Building.
Here is a list of the newest articles to be featured, with the LSUHSC-NO researchers in bold print:
Bagby GJ, Amedee AM, Siggins RW, Molina PE, Nelson S, Veazey RS. Alcohol and HIV effects on the immune system. Alcohol Res -Curr Rev. 2015;37(2):287-297.
Bealer R. Accessing the NIH portfolio through a link resolver: Challenges and outcomes. Journal of Electronic Resources in Medical Libraries. 2015;12(4):205-215.
Denman I, Banajee M, Hurley A. Dichotic listening training in children with autism spectrum disorder: A single subject design. Int J Audiol. 2015;54(12):991-996.
Johnson DH, Reske T, Ruiz M. Case report and review of immunodeficiency-associated burkitt lymphoma. Clin Lymphoma Myeloma Leuk. 2015;15(6):e121-5.
Primeaux SD, Tzeng TH, Allerton TD, Chiang MC, Cosentino G, Dubin RL, Varughese A, Moore R, Geiselman PJ, Greenway FL, Uwaifo GI. Differences in short-term food preferences following vertical sleeve gastrectomy and roux-en-Y gastric bypass surgery. Obes Res Clin Pract. 2015;9(6):628-32.
Seymour NE, Paige JT, Arora S, Fernandez GL, Aggarwal R, Tsuda ST, Powers KA, Langlois G, Stefanidis D. Putting the MeaT into TeaM training: Development, delivery, and evaluation of a surgical team-training workshop. J Surg Educ. 2016;73(1):136-142.
Singh D, Dalal N, Mullen W, DiLeo Congeni J, Caspi J, Sernich S. Double aortic arch associated with bronchopulmonary sequestration: A rare dual anomaly. World J Pediatr Congenit Heart Surg. 2015;6(1):143-145.
Terry B, Kelt RE, Jeyakumar A. Delayed complications after cochlear implantation. JAMA Otolaryngol Head Neck Surg. 2015;141(11):1012-7.
Publications cited in the Faculty Publications database are harvested weekly from a variety of sources, such as PubMed, SCOPUS, and CINAHL, to name a few. In addition to articles they include books, book chapters, papers, editorials, letters to the editor, and meeting abstracts, all authored by at least one member of the LSUHSC-NO community. The database is maintained by Reference Librarian Kathy Kerdolff and is available to the general public here or via the Library's webpage. For a PDF of a bibliography of this month's additions, click here. If you have an article you would like us to highlight or if you have any questions regarding the display or the database, you can contact Kathy Kerdolff.
Please come to the Library and view these recent publications by our research community.