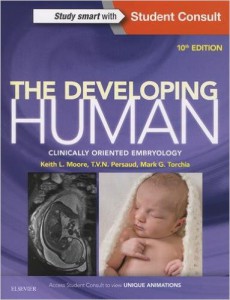 We are pleased to announce that The Developing Human: Clinically Oriented Embryology, 10th edition, is now available in an Ebook format.
From the record in the library catalog, click on the link for EBSCOhost Ebooks. We have 3 "copies" available, so we are allowed 3 concurrent online users.
The print edition is on reserve for ANAT 100 – Gross Anatomy and ANAT 101 – Human Prenatal Development.  But we think you'll find the electronic edition to be much lighter.