While moving the dental books and journals we came across several books we'd like to tell everyone about in a series of posts in the continuing saga of "It Came From The Stacks" (insert foreboding music here…)
Our first book is a classic of dentistry from the Dental Library's Old and Rare Collection.  This over sized book, published in 1844, is by Paul B Goddard and is titled The Anatomy, Physiology and Pathology of the Human Teeth; with the most approved methods of treatment, including operations, and the method of making and setting artifical teeth; with thirty plates, also known as "Goddard on the Teeth".
When "Goodard on the Teeth" was published, it was described in a review in American Journal of Medical Sciences as a "practical treatment on the subject of the teeth".  It is praised by the reviewer: "… the work is got up in the handsomest manner.  The plates are indeed the best specimens of lithography we have seen executed in this country."  This book contains some remarkable images head and neck anatomy, microscopic structure of teeth. dental equipment, a four step pictorial description of extracting teeth using a key, and various forms of artificial teeth and plates, among others.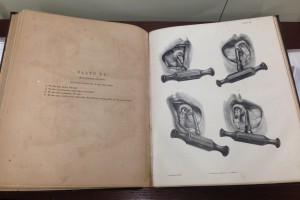 This is a very interesting book that is exemplary of the beginnings of modern dentistry.  If you would like to take a look at it in person, please contact the Dental Library and make arrangements to come see it.  We'd love to share our old and rare treasures with you.