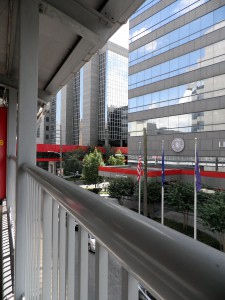 A new selection of articles has been added to the Faculty Publications display in the Ische Library. These eight articles, as well as all of the articles in our Faculty Publications database, are authored by at least one member of our research community here at LSUHSC-New Orleans. Each month the Library is proud to present copies of eight of these publications in a rotating display of 16. They can be viewed in the Reference area, on the wall between the main entrance and the Library elevator, on the third floor of the Resource Center Building.
Here is a list of the newest articles to be featured, with the LSUHSC-NO researchers in bold print:
Alexandrov PN, Percy ME, Lukiw WJ. Chromosome 21-encoded microRNAs (mRNAs): Impact on Down's syndrome and trisomy-21 linked disease. Cell Mol Neurobiol. 2017;[epub].
Augestad KM, Han H, Paige J, Ponsky T, Schlachta CM, Dunkin B, Mellinger J. Educational implications for surgical telementoring: A current review with recommendations for future practice, policy, and research. Surg Endosc. 2017;[epub].
Coleman MT, McLean A, Williams L, Hasan K. Improvement in interprofessional student learning and patient outcomes. J Interprofessional Educ Pract. 2017;8:28-33.
Crespo-Salgado J, Vehaskari VM, Stewart T, Ferris M, Zhang Q, Wang G, Blanchard EE, Taylor CM, Kallash M, Greenbaum LA, Aviles DH. Intestinal microbiota in pediatric patients with end stage renal disease: A Midwest Pediatric Nephrology Consortium study. Microbiome. 2016;4(1):50-016-0195-9.
Gilpin NW, Weiner JL. Neurobiology of comorbid post-traumatic stress disorder and alcohol-use disorder. Genes Brain Behav. 2017;16(1):15-43.
Kane AC, Stark M, Kanotra SP. An HIV-positive child with a gingival mass. JAMA Otolaryngol Head Neck Surg. 2017;[epub].
Kim CD, Reed RE, Juncker MA, Fang Z, Desai SD. Evidence for the deregulation of protein turnover pathways in atm-deficient mouse cerebellum: An organotypic study. J Neuropathol Exp Neurol. 2017; 76(7):578-584.
Lefer DJ, Marban E. Is cardioprotection dead? Circulation. 2017;136(1):98-109.
Publications cited in the Faculty Publications database are harvested weekly from a variety of sources, such as PubMed, SCOPUS, and CINAHL, to name a few. In addition to articles they include books, book chapters, papers, editorials, letters to the editor, and meeting abstracts, all authored by at least one member of the LSUHSC-NO community. The database is maintained by Reference Librarian Kathy Kerdolff and is available to the general public here or via the Library's webpage. For a PDF of a bibliography of this month's additions, click here. If you have an article you would like us to highlight or if you have any questions regarding the display or the database, you can contact Kathy Kerdolff.
Please come to the Library and view these recent publications by our research community.